writing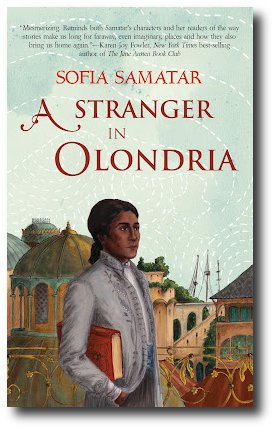 Winner

: World Fantasy Award
British Fantasy Award
Crawford Award


JEVICK, THE PEPPER MERCHANT'S SON, has been raised on stories of Olondria, a distant land where books are as common as they are rare in his home. When his father dies and Jevick takes his place on the yearly selling trip to Olondria, Jevick's life is as close to perfect as he can imagine. But just as he revels in Olondria's Rabelaisian Feast of Birds, he is pulled drastically off course and becomes haunted by the ghost of an illiterate young girl.
In desperation, Jevick seeks the aid of Olondrian priests and quickly becomes a pawn in the struggle between the empire's two most powerful cults. Yet even as the country simmers on the cusp of war, he must face his ghost and learn her story before he has any chance of becoming free by setting her free: an ordeal that challenges his understanding of art and life, home and exile, and the limits of that seductive necromancy, reading.
Small Beer
Weightless Books
Amazon
Goodreads
"
Sofia Samatar
'
s

A Stranger in Olondria

(Small Beer Press) is gloriously vivid and rich.
"
—
Adam Roberts,

The Guardian



"Jevick's journey is an enchanting tale of wonder and superstition, revealing the power of books and the secret traditions of ancient voices. Samatar's sensual descriptions create a rich, strange landscape, allowing a lavish adventure to unfold that is haunting and unforgettable."
—
Library Journal

(starred review)
"[J]ust about every piece is in place here
—it
's the rare first novel with no unnecessary parts
—and, in terms of its elegant language, its sharp insights into believable characters, and its almost revelatory focus on the value and meaning of language and story, it
's the most impressive and intelligent first novel I expect to see this year, or perhaps for a while longer.
"
—Gary K. Wolfe,

Locus

"Sofia Samatar has an expansive imagination, a poetic and elegant style, and she writes stories so rich, with characters so full of life, they haunt you long after the story ends. A real pleasure."
—Chris Abani, author of

GraceLand

and

The Virgin of Flames
"Mesmerizing—a sustained and dreamy enchantment.

A Stranger in Olondria

reminds both Samatar's characters and her readers of the way stories make us long for far-away, even imaginary, places and how they also bring us home again."
—Karen Joy Fowler, New York Times bestselling author of

The Jane Austen Book Club
"Thoroughly engaging and thoroughly original. A story of ghosts and books, treachery and mystery, ingeniously conceived and beautifully written. One of the best fantasy novels I've read in recent years."
—Jeffrey Ford, author of

The Girl in the Glass
"Gorgeous writing, beautiful and sensual and so precise—a Proustian ghost story."
—Paul Witcover, author of

Tumbling After
"Imagine an inlaid cabinet, its drawers within drawers filled with spices, roses, amulets, bright cities, bones, and shadows. Sofia Samatar is a merchant of wonders, and her

A Stranger in Olondria

is a bookshop of dreams."
—Greer Gilman, author of

Cloud & Ashes
"Let the world take note of this dazzling and accomplished fantasy. Sofia Samatar's debut novel is both exhilarating epic adventure and loving invocation of what it means to live through story, poetry, language. She writes like the heir of Ursula K. Le Guin and Gene Wolfe."
—Kelly Link, author of

Magic for Beginners
Read an excerpt at Tor.com



Short Fiction
Walkdog (

Kaleidoscope: Diverse YA Science Fiction and Fantasy Stories

, 2014)
A Girl Who Comes Out of a Chamber at Regular Intervals (

Lackington's

, 2014)

O
gres of East Africa (

Long Hidden: Speculative Fiction from the Margins of History

, 2014)
How to Get Back to the Forest (

Lightspeed

, 2014)
Olimpia's Ghost (

Phantom Drift

, 2013; reprinted in the Year's Best Weird Fiction, 2014)
How I Met the Ghoul (

Eleven Eleven

, 2013)
Bess, the Landlord's Daughter, Goes for Drinks with the Green Girl (

Glitter & Mayhem

, 2013)
I Stole the D.C.'s Eyeglass (

We See a Different Frontier: A Postcolonial Speculative Fiction Anthology

, 2013)
Dawn and the Maiden (
Apex Magazine
, 2013)
Selkie Stories Are for Losers
(
Strange Horizons,
2013)
Honey Bear
(
Clarkesworld
Magazine
, 2012)
A Brief History of Nonduality Studies
(
Expanded Horizons
, 2012; reprinted in

Mothership: Tales from Afrofuturism and Beyond

, 2013)
The Nazir
(
Ideomancer
, 2012)
Poetry
The White Goddess (

Bluestockings Magazine

, 2015)
Make the Night Go Faster (

Liminality

, 2014)
The Death of Araweilo (Tor.com, 2014)
Long-Ear (

Stone Telling

, 2014)
APACHE CHIEF (

Flying Higher: An Anthology of Superhero Poetry

, 2013)
Persephone Set Free (

Mythic Delirium

, 2013)
Undoomed (

Ideomancer

, 2013)
Shahrazad Spoils the Coffee (

Jabberwocky

, 2012)
Snowbound in Hamadan (

Stone Telling

, 2012)
Burnt Lyric (

Goblin Fruit

, 2012)
The Hunchback's Mother (

inkscrawl

, 2012)
Lost Letter (

Strange Horizons

, 2012)
Qasida of the Ferryman (

Goblin Fruit

, 2012)
The Year of Disasters (

Bull Spec

, 2012; reprinted in

The Moment of Change: An Anthology of Feminist Speculative Poetry

, 2012)
Girl Hours (

Stone Telling

, 2011)
The Sand Diviner (

Stone Telling

, 2011)



Selected Essays & Reviews



The Spaces Between Objects: On Weird Fiction and the Interstitial (

Weird Fiction Review

, 2015)
Black and African writers don't need instructions from Ben Okri (
The Guardian

, 2014)
Things We Found During the Autopsy

, by Kuzhali Manickavel (

Strange Horizons

, 2014)
Demonstra

, by Bryan Thao Worra (

Strange Horizons

, 2014)
Afrofuturism: The World of Black Sci-Fi and Fantasy Culture

, by Ytasha L. Womack (

Strange Horizons

, 2014)


Atlas: The Archaeology of an Imaginary City

, by Dung Kai-Cheung (

Strange Horizons

, 2013)
Symbiosis: Octavia Butler's "Bloodchild" (

Weird Fiction Review

, 2013)


That Book Your Mad Ancestor Wrote

, by K.J. Bishop (

Strange Horizons

, 2013)
Umbrageous Legacy: Mervyn Peake's Portrait Gallery (

Weird Fiction Review

, 2012)


Jagannath: Stories

by Karin Tidbeck (

The World SF Blog

, 2012)


Sea Hearts/The Brides of Rollrock Island

, by Margo Lanagan (

Strange Horizons

, 2012)


In the United States of Africa

by Abdourahman Waberi (

Islam & Science Fiction

, 2012)
Interstitial International? Ibrahim al-Koni and the Question of Genre (

Interfictions Zero

, 2011)